If you're reading this site today, it means our nightmare with Mr. Sanchez is not settled.  As of December 2017, Mr. Sanchez still retains our money and our possessions.  
Thanks for reading our true story.  David & Mike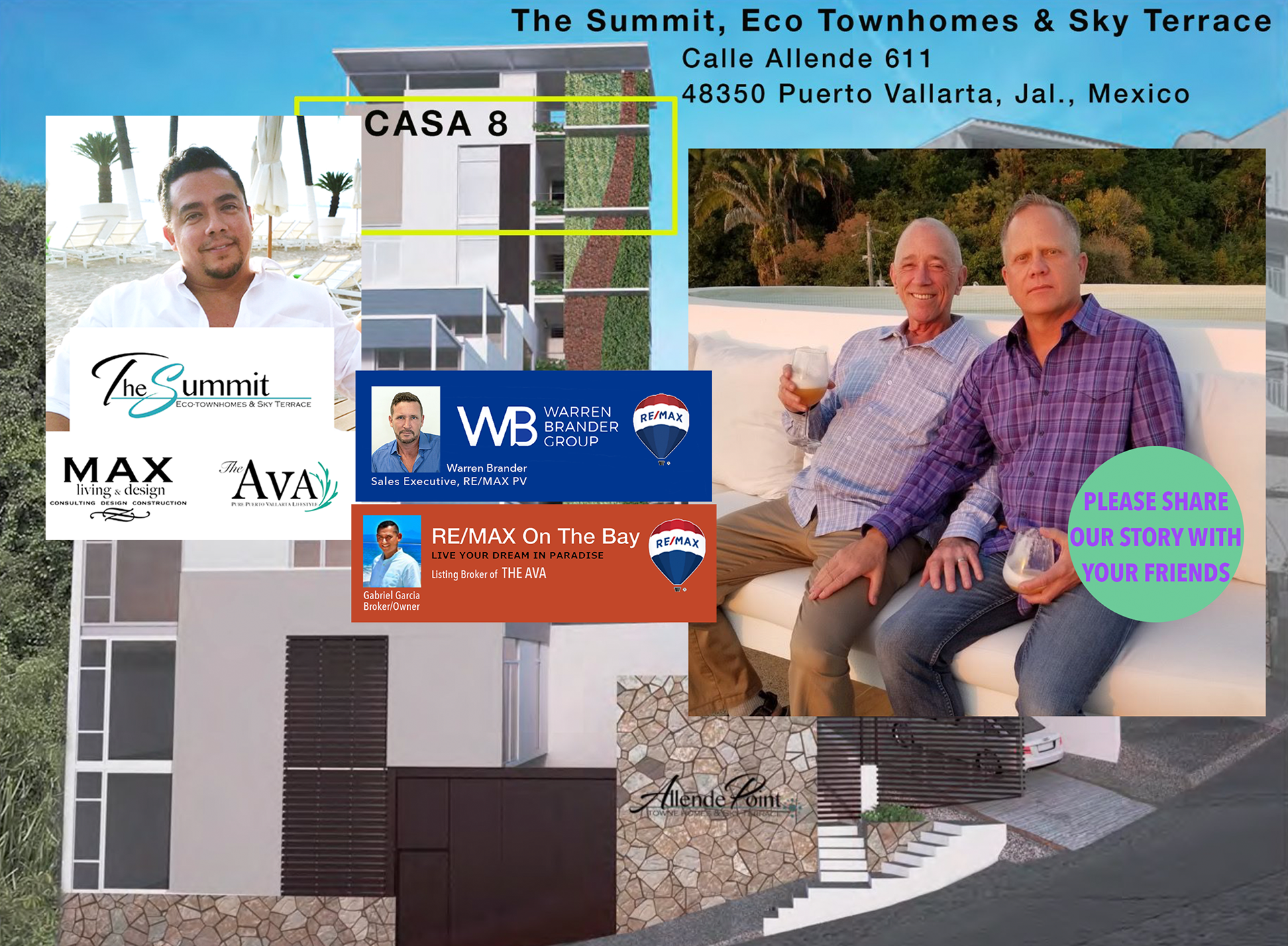 A Message for Property Buyers and Real Estate Professionals in Puerto Vallarta:
Developer Joe Sanchez sold us a discounted, pre-construction condo in March, 2017. We were the first buyers in his project, The Summit.
After we moved into our home and lived there for six weeks, Mr. Sanchez locked us out of our condo, stole our possessions and has kept our money. It's been over 2 years and he still has our money and our possessions.
He is now building a new condo project, THE AVA, offering yet MORE discounted, pre-construction condos. One would think that he would have returned our possessions and our money before again offering exactly what he sold us to new unsuspecting buyers.
The majority of developers, brokers and realtors in Puerto Vallarta are ethical and care about their clients. Those professionals do not engage in the kind of behavior we have endured for over two years. We suggest that potential buyers choose one of those honest real estate professionals and make a wise decision about whom they utilize to handle their real estate needs.
Please read and consider our story BEFORE you make your own purchase.
Jose Francisco Sanchez Ramirez (Joe Sanchez) was arrested and criminally charged by the government of Mexico 
with illegal eviction and theft.

Our original blog about what happened to us has been read by almost 100,000 people. You can find those links here:
Even a MAZATLAN POST article went viral last year.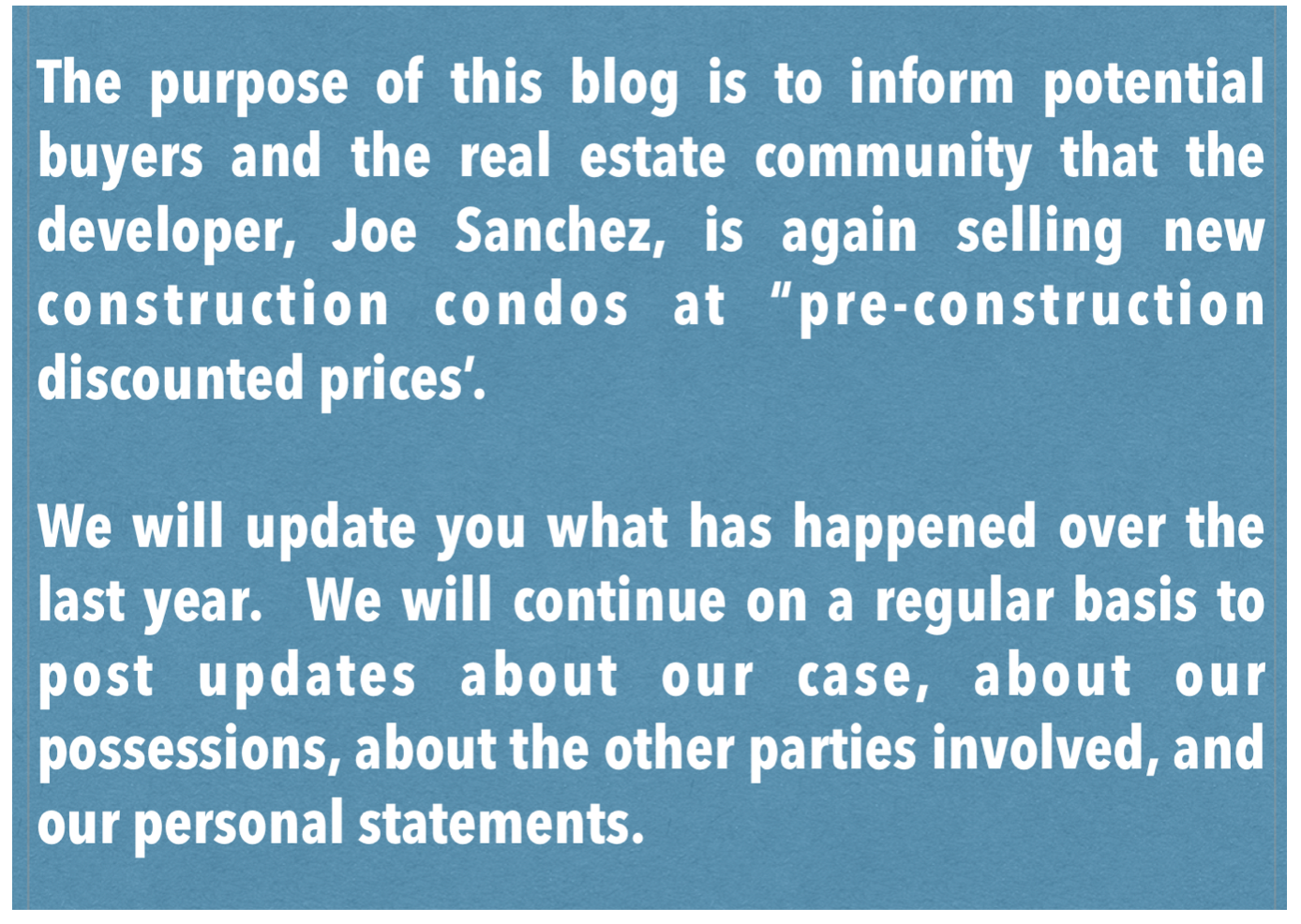 Below is a list of the hearing dates. You will notice how odd it is that Mr. Sanchez, who claims to seek justice, simply does NOT SHOW UP most of the time. This list itemizes each hearing, whether Mr. Sanchez was present and what happened at that hearing. It is quite a remarkable list.
June 15, 2018: All parties were present. **See June 15 notes below
July 27, 2018: Sanchez did not show up.
Oct. 23, 2018: Sanchez did not show up.
Nov 29, 2018: Sanchez did not show up.
Jan 21, 2019: Sanchez did not show up.
Feb 11, 2019: Sanchez did not show up.
Feb 19, 2019: Ironically, Sanchez posted a response online to our posts in which he stated: "How, if as they claim, I repeatedly did not show up to court, am I not in jail?" Unbeknownst to Mr. Sanchez, a warrant for his arrest had already been issued for his repeatedly missing scheduled hearings.
Feb. 27, 2019: That warrant resulted in Sanchez being located and then arrested outside a hotel in the early morning hours. He was handcuffed and taken to the courthouse where he was detained for some hours until the judge could hold the hearing. At this hearing, Mr. Sanchez was criminally charged with illegal eviction and theft, not allowed to leave Puerto Vallarta for one year, and required to frequently check in with the court.
Oct 24, 2019: Sanchez's attorney requested a 30 day postponement in order to settle with us; neither Sanchez nor his attorney submitted any offer to settle with us during that time even though the official reason they asked for the postponement was "to settle".
Dec. 6, 2019: Sanchez's attorney requested a four month postponement in order to secure an 'expert witness' which the judge granted. He set the next hearing to be April 6, 2020 at 11am.
April 6, 2020: Hearing delayed because of Covid-19.
October 20, 2020: Sanchez Trial in Puerto Vallarta.
Near-Future Hearing: Our attorneys have begun the process to appeal to the Mexican federal court. We strongly disagree with the October 20th verdict issued by the local PV judges.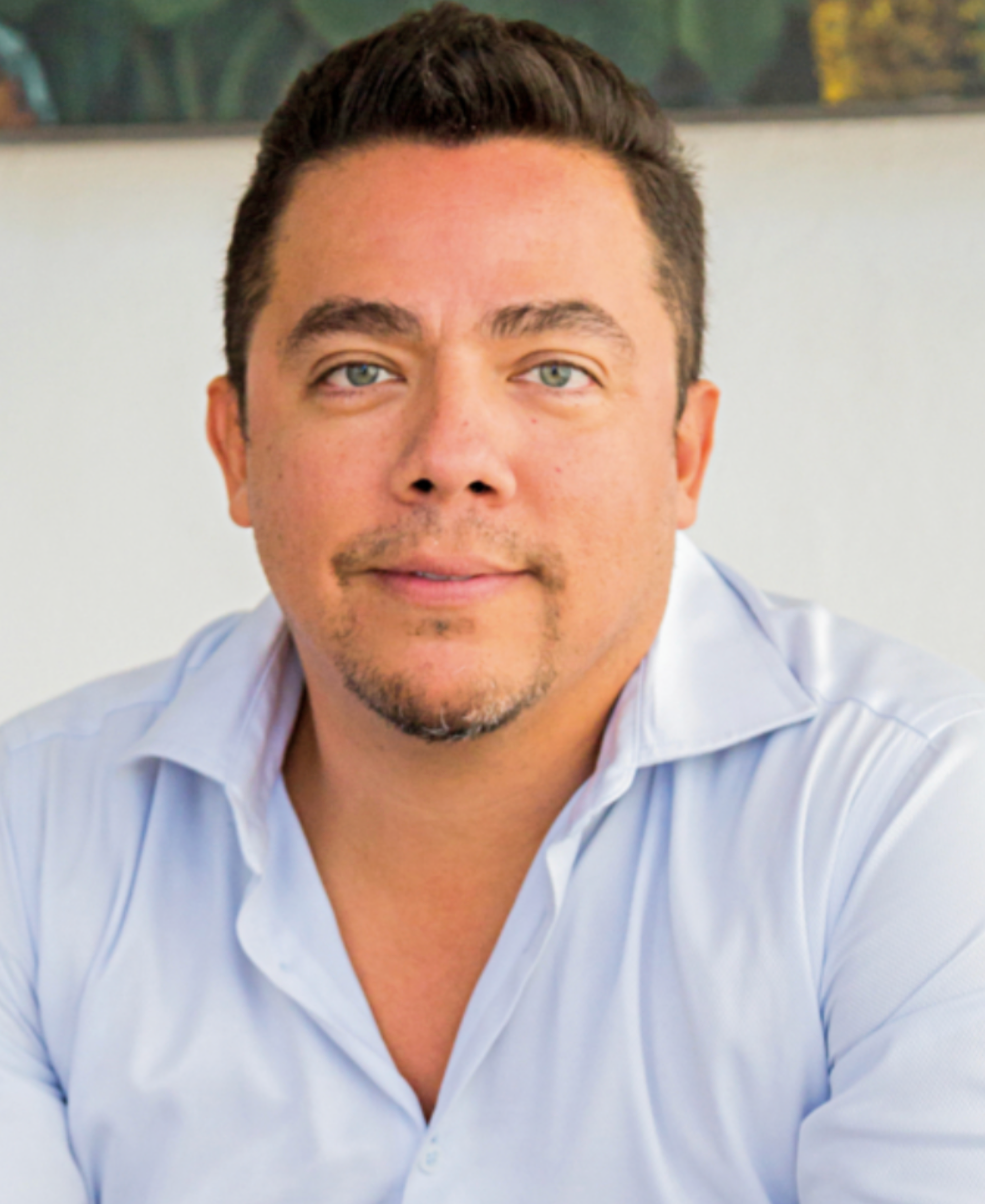 This is our account of what occurred at the 1st hearing on June 15th, 2018.
Mr. Sanchez' attorneys requested a hour long postponement to discuss a settlement. We went into a private room for that reason. We did not reach a settlement.
In this private meeting, Mr. Sanchez first apologized, then blamed everything on Tropicasa Realty (who was the broker for both him as the builder and us as purchasers). He produced an email from Maria Elizabeth O'Connor, Tropicasa's in-house legal counsel, and presented that email to all present. Mr. Sanchez said Ms. O'Connor's email was proof that it was all Tropicasa's fault. In this email, Ms. O'Connor wrote to Mr. Sanchez "you have over 80% of their money so just throw them out of their home". The email was dated a few days prior to Mr. Sanchez illegally locking us out of our home.
I told Mr. Sanchez that Ms. O'Connor may have given him that horrific advice, but he was the one who literally locked us out of our home and that both he and Tropicasa were at fault.
MORE UNFINISHED CONDOS AT 
PRE-CONSTRUCTION DISCOUNTED PRICES
new condo project now re-branded as...
WATCH OUT: SAME BUILDER...SAME ADDRESS...SAME PROJECT...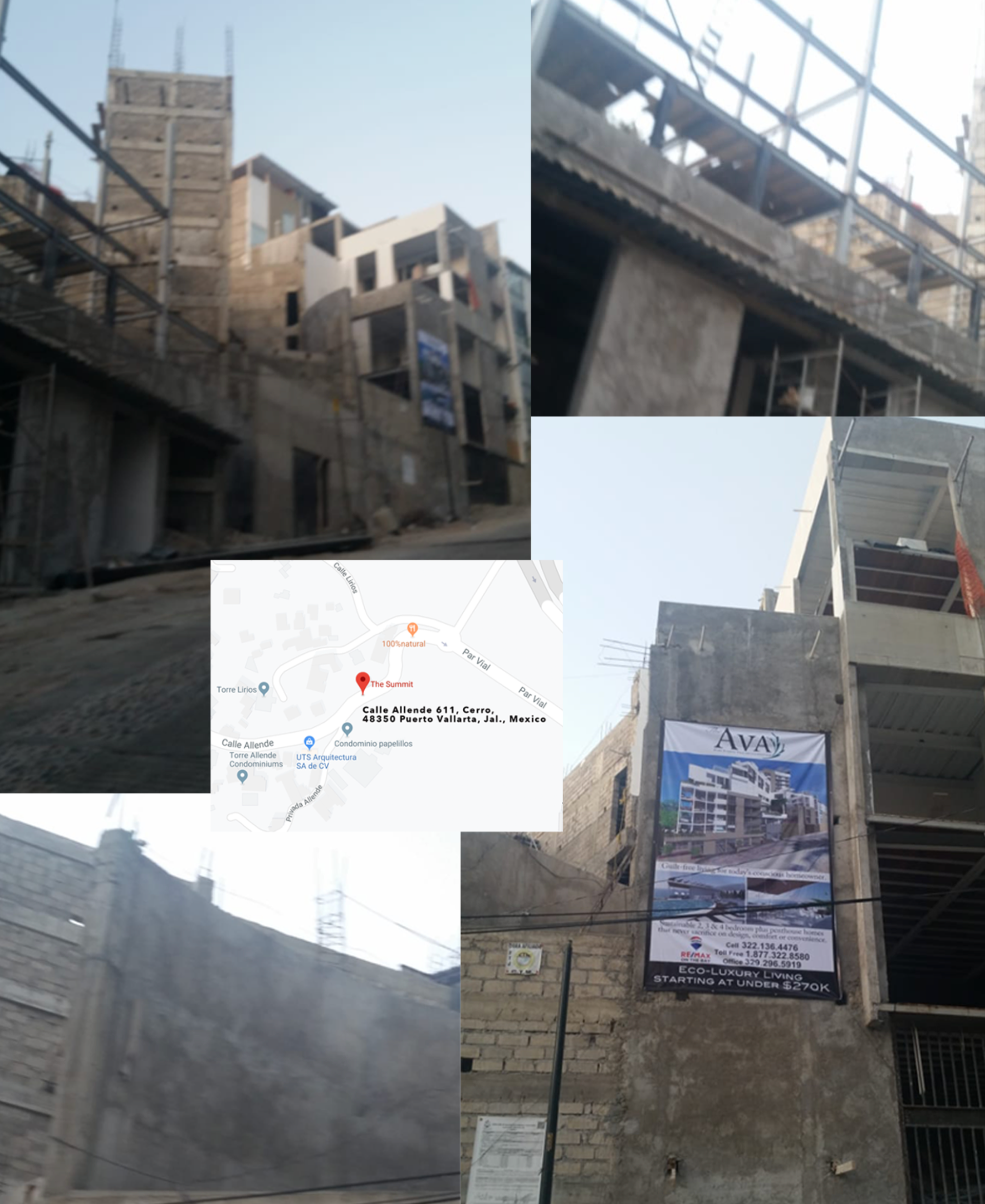 JOSE FRANCISCO SANCHEZ RAMIREZ continues to build more condos connected to the original 'The Summit Eco Townhomes & Sky Terrace'.
We had purchased Casa 8 which remains seized by the Mexican government. The title remains in Joe Sanchez' name which is demonstrated in the 1st public record below.
The 2nd public record below shows that there is a government seizure of the property due to a criminal investigation, preventing Sanchez from LEGALLY transferring the title to any person or entity.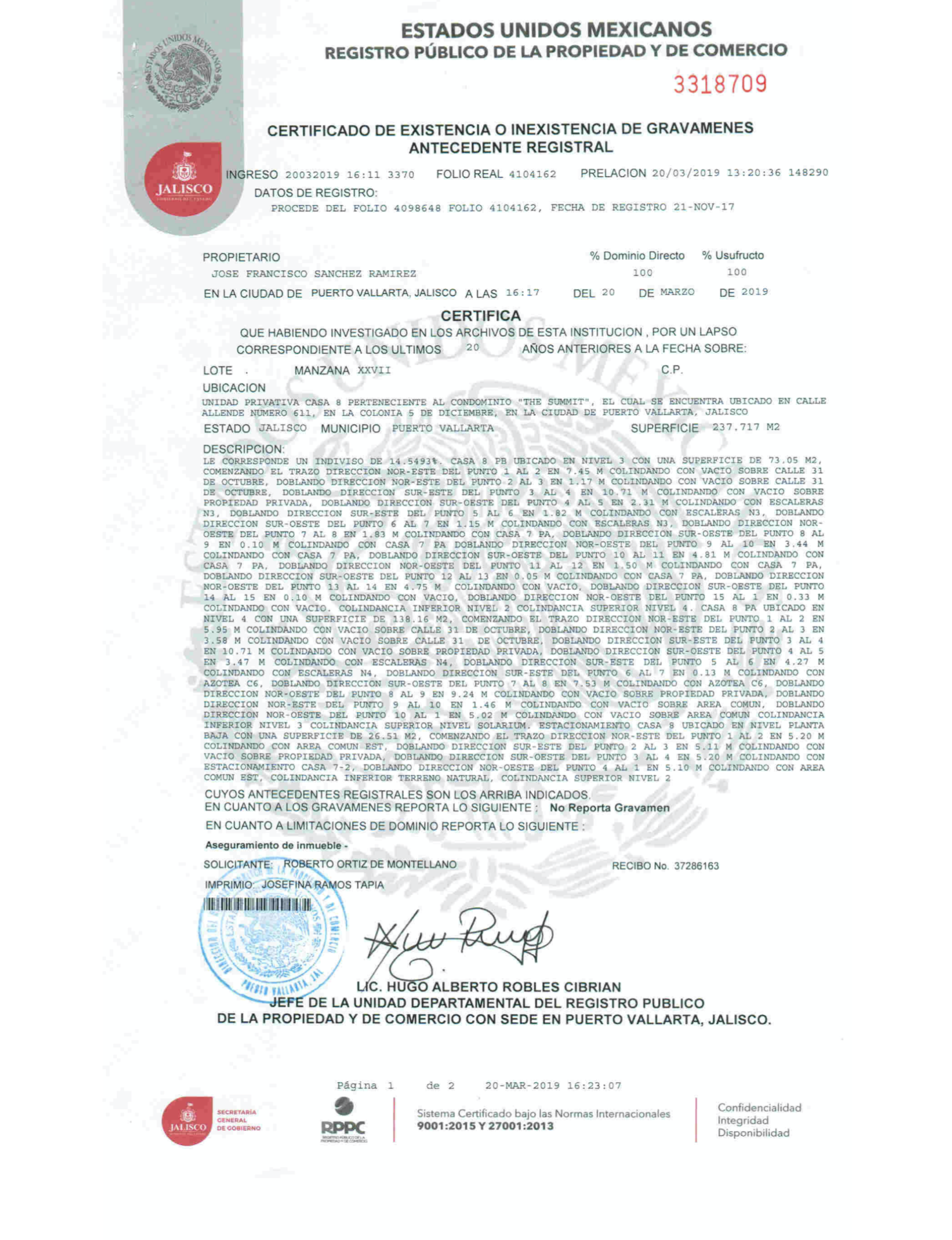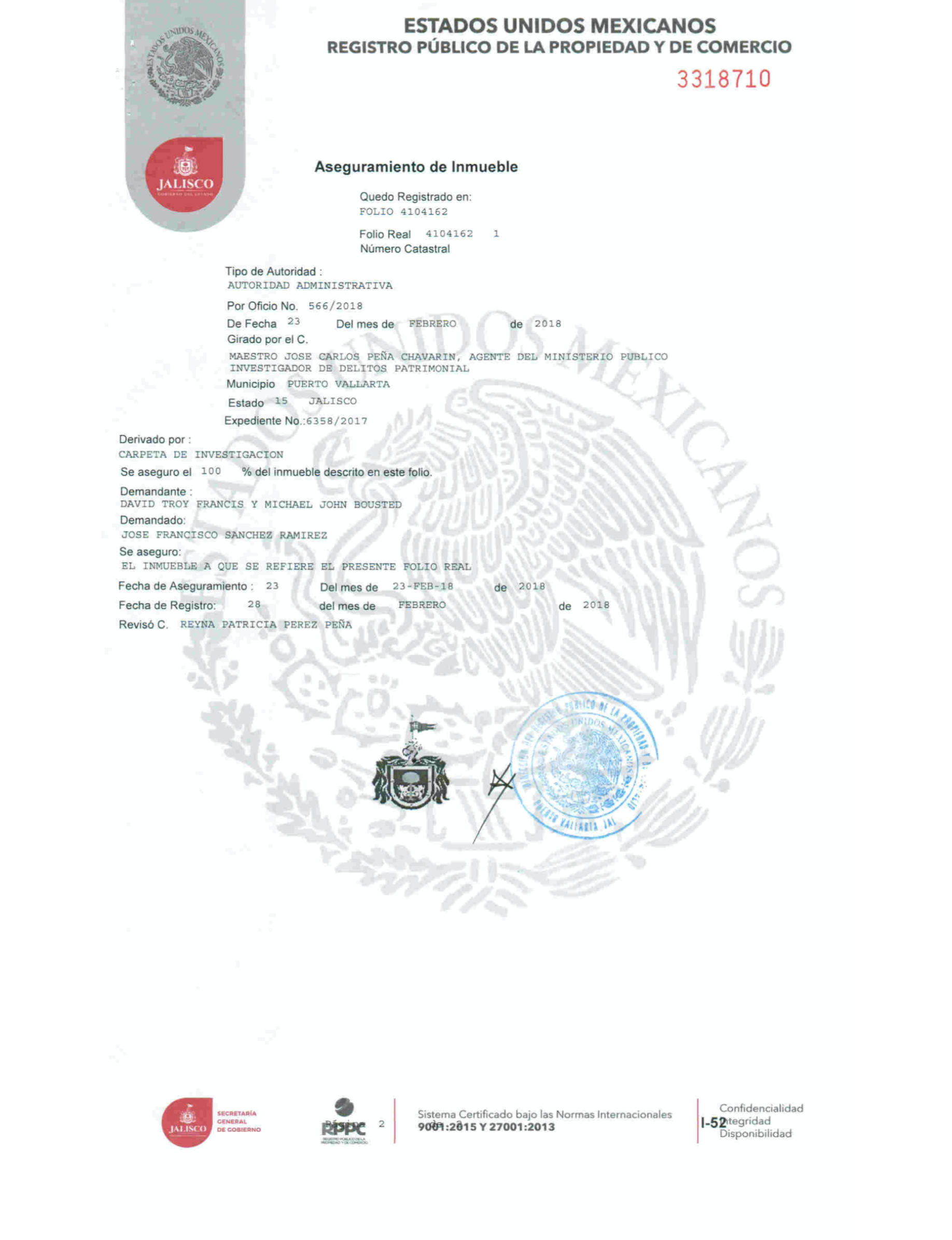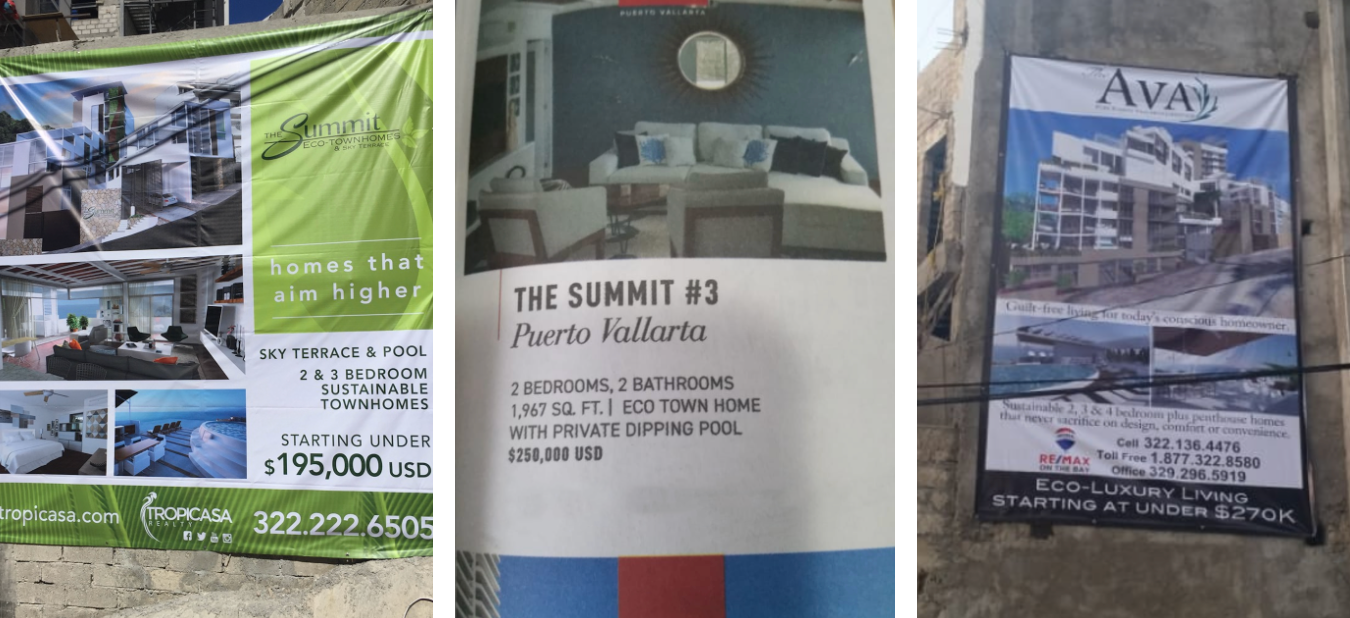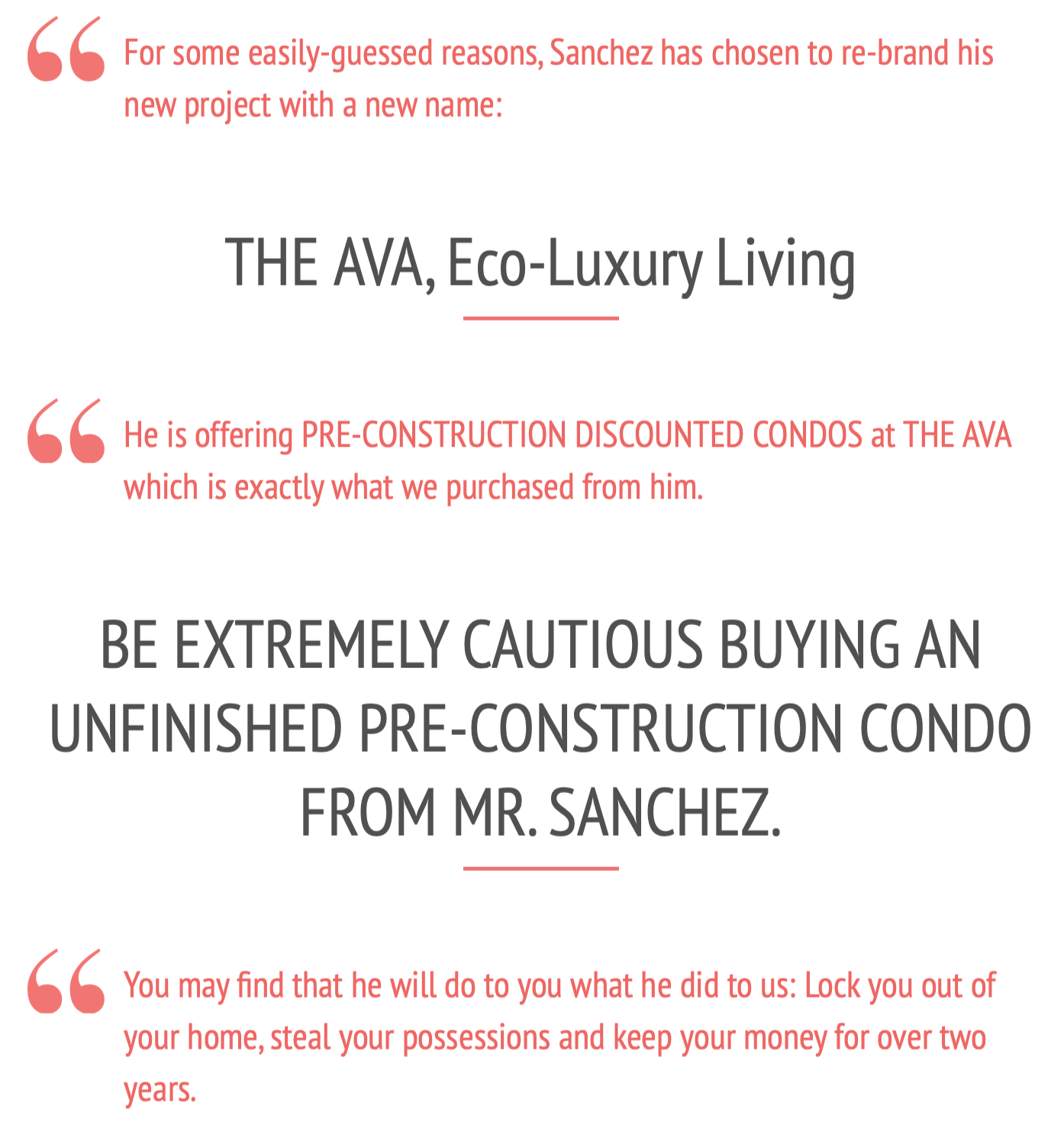 NEW BROKER/REPRESENTATION
Mr. Sanchez is now represented by his 3rd broker in less than two years---a company called RE/MAX On The Bay.
Gabriel Garcia Bobadilla is the Broker/Owner of 
We are surprised and disappointed that ANY REPUTABLE BROKER would represent Mr. Sanchez considering that he has been charged by the Mexican government with illegal eviction and theft and that he was arrested and forced to attend his own hearing.


Since being locked out on December 8, 2017, we have been struggling with the shattering consequences of Mr. Sanchez', 
Mr. Brander's and Tropicasa Realty's actions on our lives.
Imagine if you were locked out of your home with no notice. Imagine further that the person who locked you out moved all your possessions to a secret location and denied you access to those possessions for over two years. Finally, imagine that this morally bankrupt person kept the money you paid for your home and then continues to avoid facing justice for his crimes.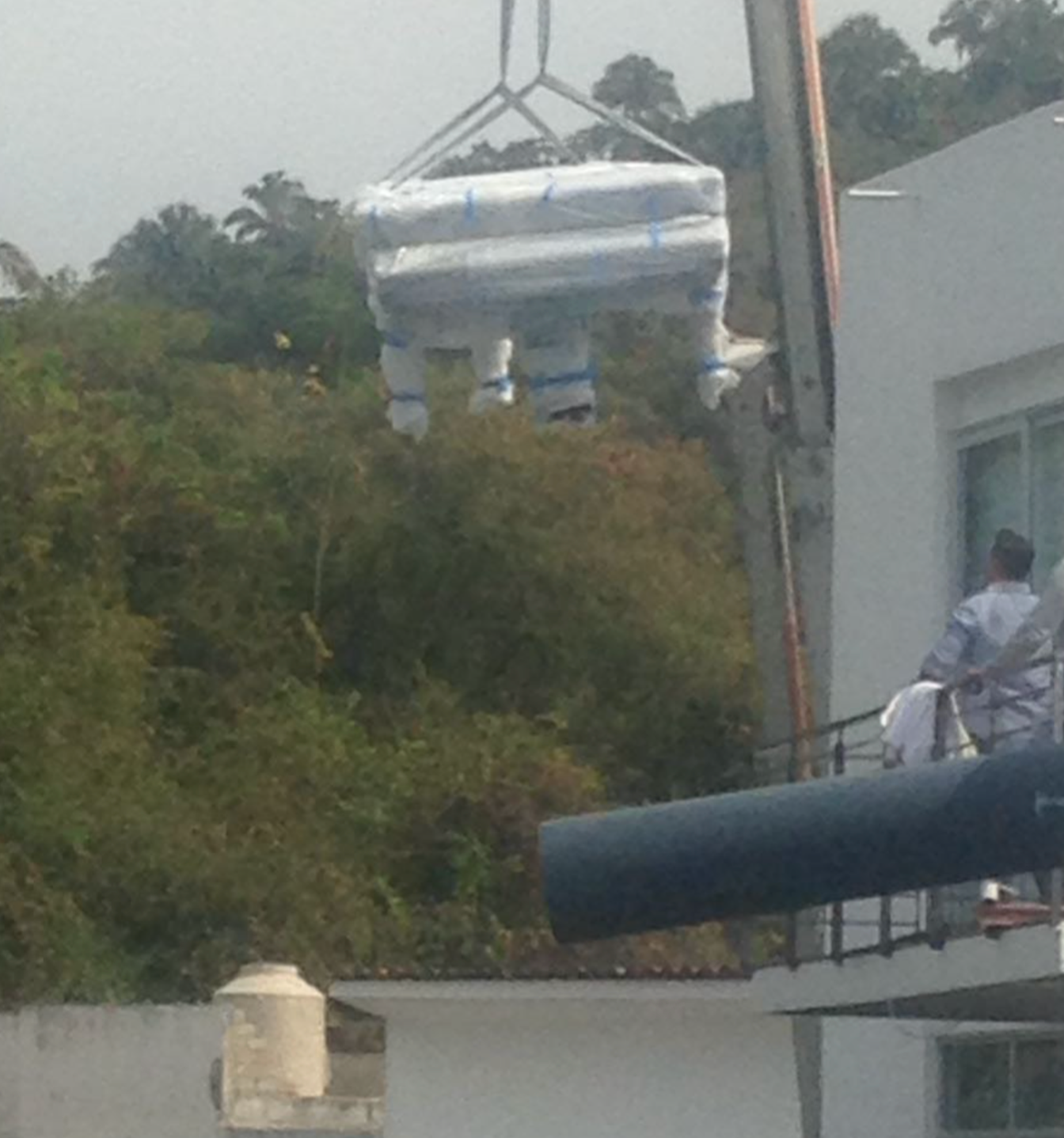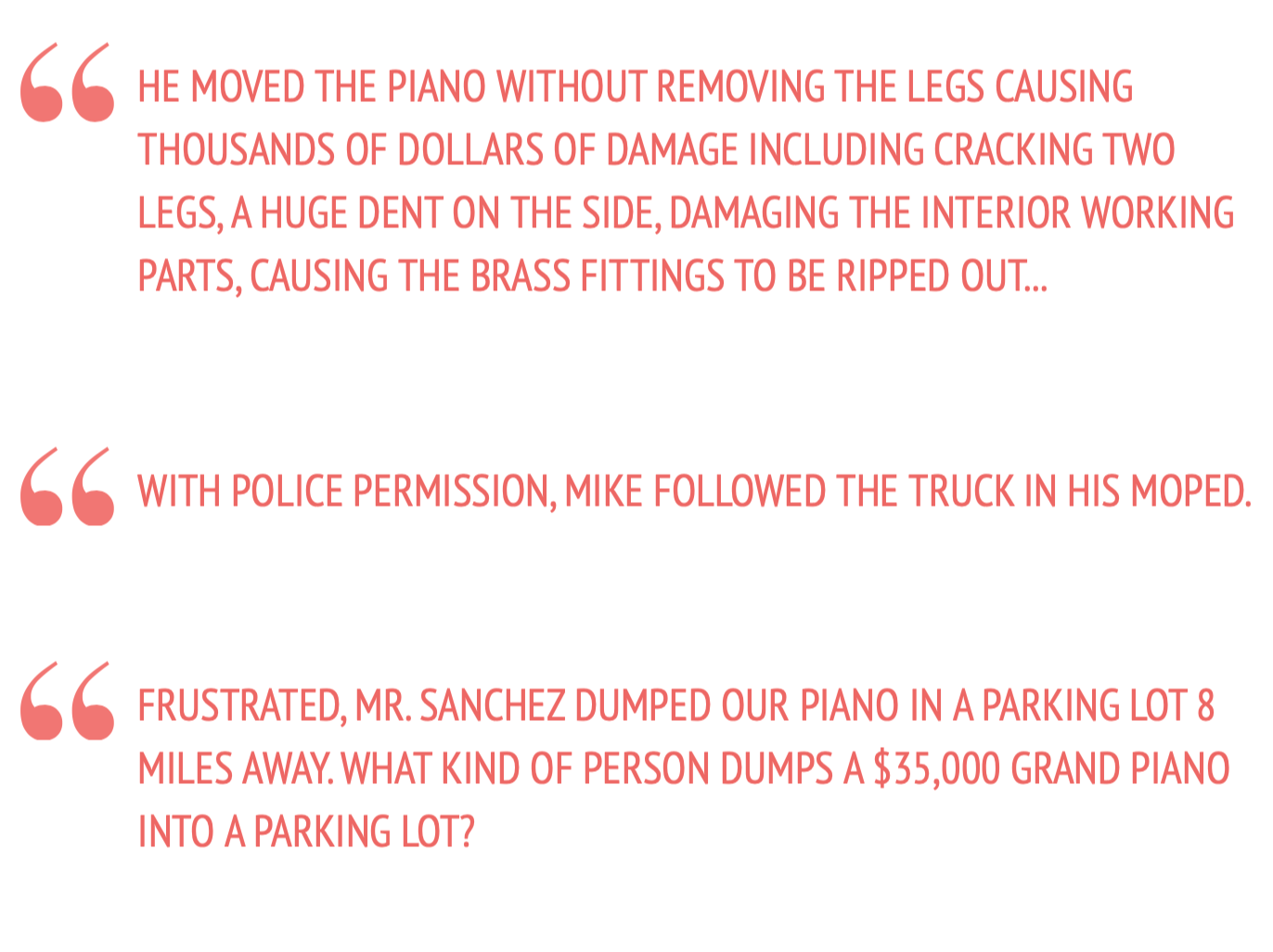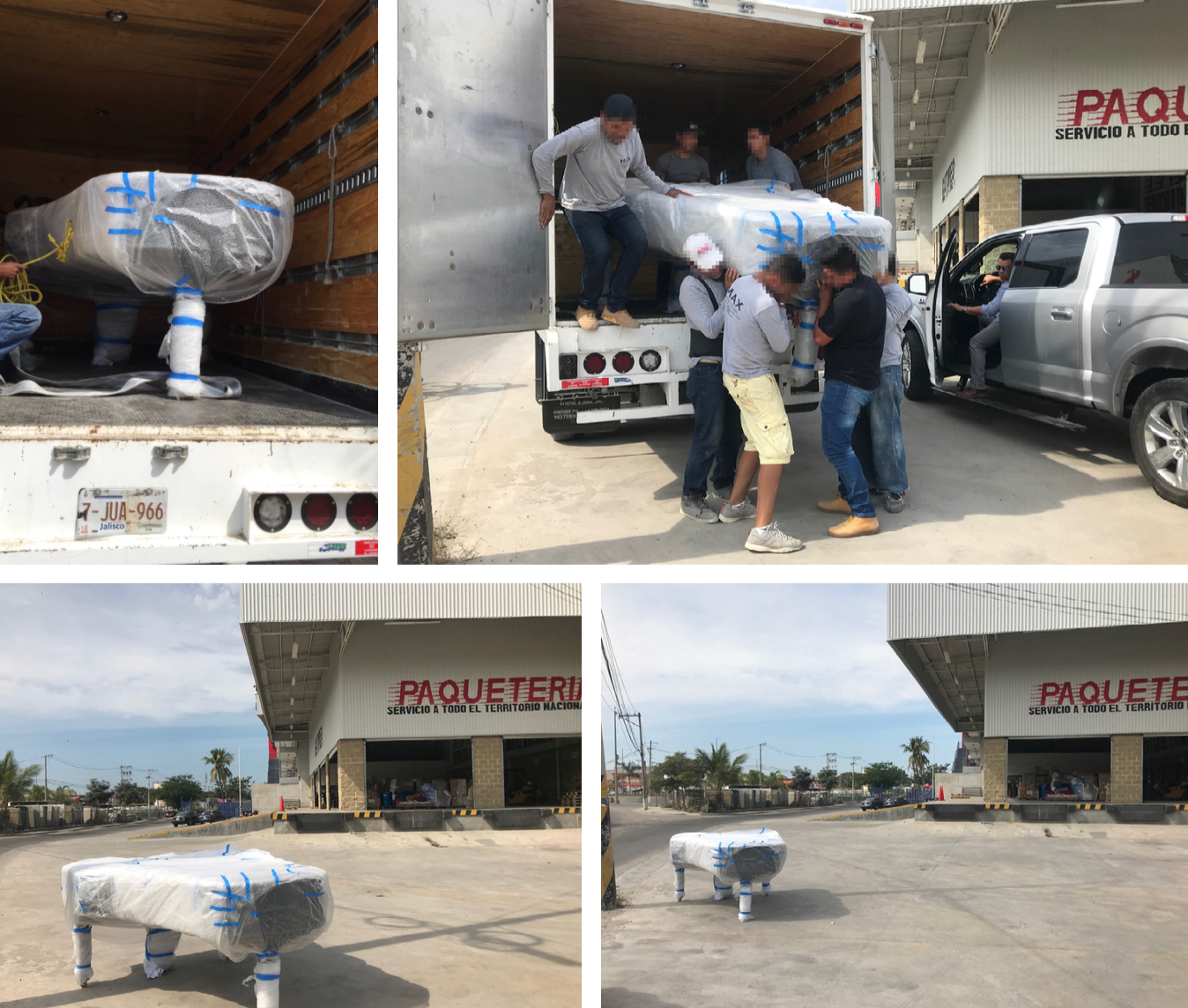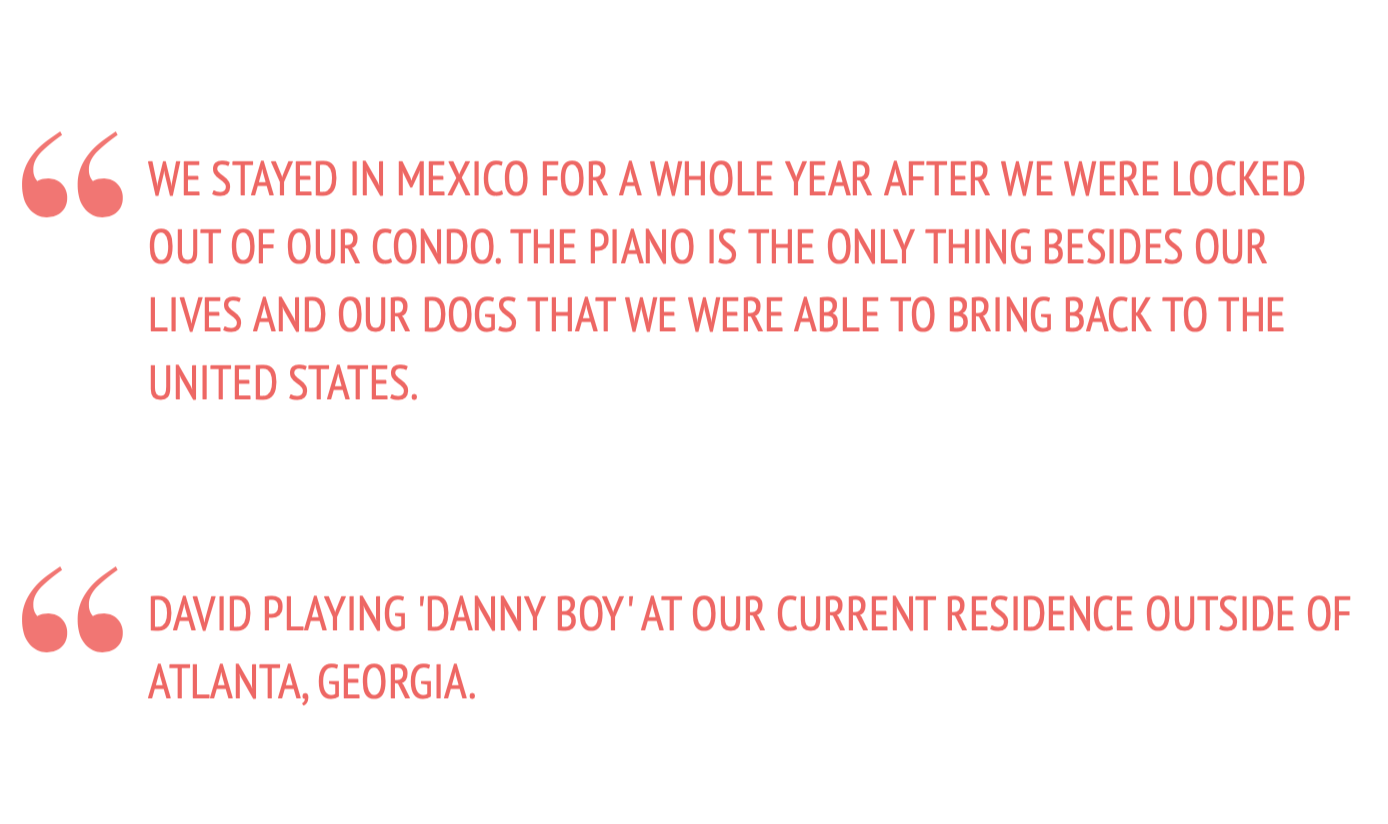 David is 67 years old and is a classical pianist and composer. Mike is a 55 year old retired music editor for film. Our lives, like any other person's life, have been filled with both joy and sorrow.
On the joyful side, we are in a long, loving relationship of over 25 years. We have many caring and kind friends. Our siblings' children and their children are ethical, kind people with many accomplishments.
David has performed for tens of thousands of people, composed a very successful musical, been the recording pianist for A list films and has 8 cds of his piano performance. He recently served as artistic producing director for a concert that netted almost $75,000 for the Haywood Street Congregation's newly commissioned Fresco. He performed 9 concerts just in December, 2019, in four states from California to North Carolina.
Mike is a retired film music editor who contributes his time and work efforts to multiple charitable organizations by creating graphic designs for their projects.
We have worked hard to be productive and contributing members of each and every community in which we have lived. We still find joy in the moments of our lives.
On the less joyful side, both of David's brothers were killed by drunk drivers in separate accidents. He lost 147 of his friends, business partners and lovers to the AIDS crisis in the 1980s. He has survived open heart surgery, serious cancer and other medical conditions.
But to us, the exceptional thing about the sorrow of Mr. Sanchez is that his actions have been intentional and not a result of tragedy or disease. He intentionally locked us out of our home…we believe he did so because he thought he could sell our condo to someone else for $100,000+ more money-something he actually tried to do before learning any sale was prevented by the government.
Since that time, rather than do the right thing by returning our possessions and making us whole financially-he has chosen to deny us those things and to avoid court so that an unbiased party (the judge) can decide whether or not what he did rises to the level of criminal penalties. Both we and the Mexican government believe it does and is the reason they are prosecuting him. We believe he is one of the most unethical and untrustworthy people we have met in our lives.
We have no desire to place Mr. Sanchez in prison. We want him to return our items-undamaged and with none missing – to re-pay us all our money, and to reimburse us for our expenses that have been caused by his actions. Contrary to Mr. Sanchez's statements, we have never asked for emotional or punitive damages. We want to be made whole.
He refuses to even discuss settling with our attorneys or to provide us a date when we can begin rebuilding our lives by returning our possessions which he now has stored in the garage of our former home-The Summit.
We know that the wheels of justice move slowly, but they are moving forward and justice is coming. Jose Francisco Sanchez Ramirez (Joe Sanchez) has been criminally indicted with illegal eviction and theft. The next hearing will be on April 6, 2020 at 11am at which time the trial date will be set.
We will continue to post our story until this matter has been concluded. Not only do we want justice for ourselves, we want the public to know so that they can make informed judgements about their own real estate transactions and who they might trust to handle those matters in the Puerto Vallarta real estate community.
Not one of these people or businesses have done the right thing. Warren Brander continues to sell unfinished, discounted condos under construction by Joe Sanchez to unsuspecting people despite knowing what Sanchez has done to us. Joe Sanchez continues to try and avoid justice and Tropicasa Realty and Brander still have not returned our commission.
Thank you to our hundreds of facebook friends @CondoNightmare and the thousands of others who have emailed, posted or communicated your support and well-wishes to us. You continue to provide an emotional uplift to us through a difficult journey.
​​​​​​​
PS. Feel free to contact us at: 
condo.nightmarepv@gmail.com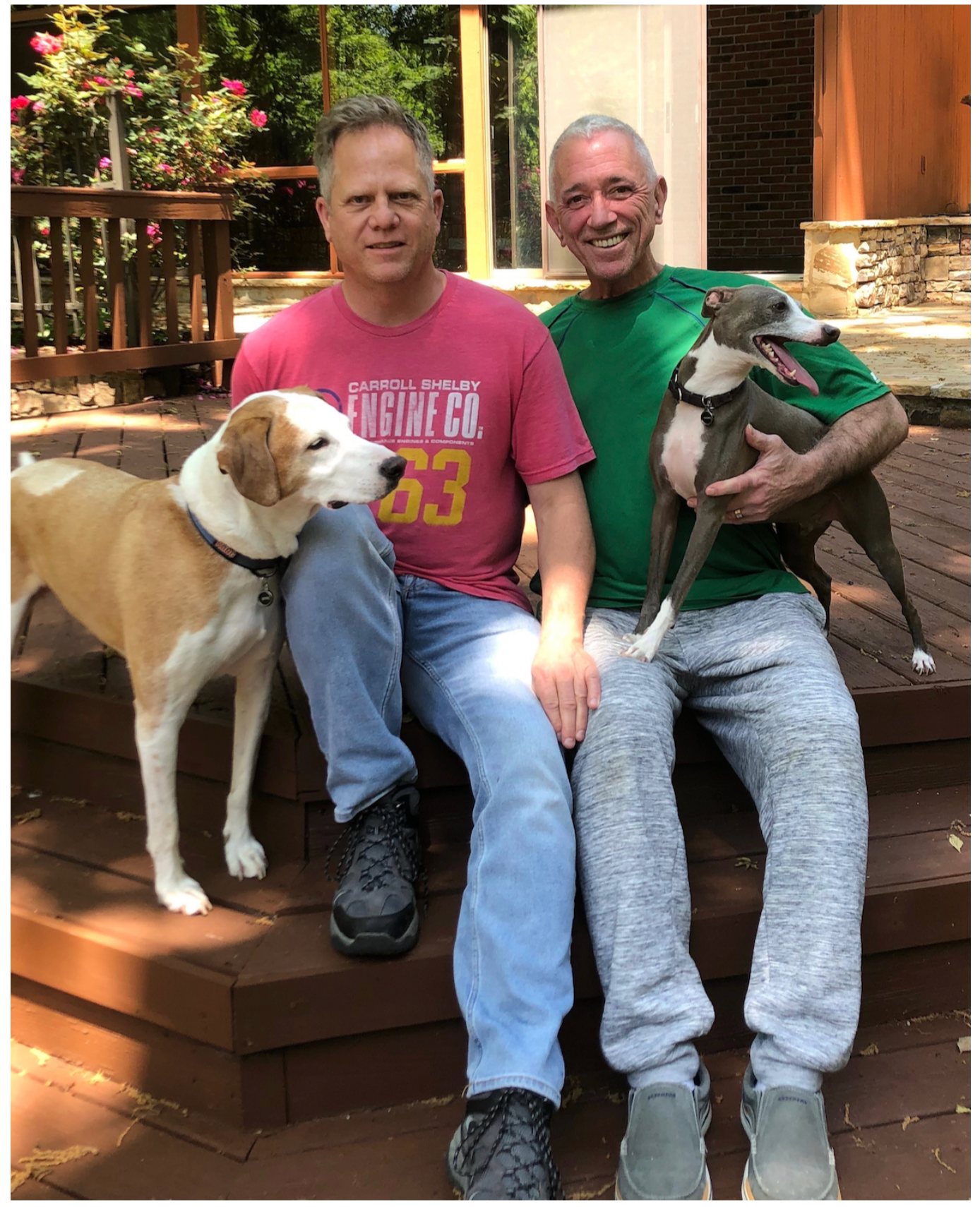 Please help by posting our website
 on your social media platform. 
Please like and follow 
our FB page